Andy Bostinto – Founder and CEO of NGA
TRAINER TO THE STARS
Meet Andy Bostinto the Founder and CEO of NGA and the author of the NGA's personal trainer's fitness certification program. He has been in the professional fitness trainer field for over 40 years. Andy was one of the first in the industry to develop a personal fitness certification training program. His vision was always to set the standards for professional fitness training by developing a certification program that would provide the industry with a set of rigorous testing standards.
Since 1979, the NGA's mission has been to set high standards for all drug-free athletes. Through the NGA's fitness certification program you will become proficient as a Personal Trainer, Instructor, Lifestyle & Weight Management Consultant and Clinical Exercise Specialist.
The NGA's certified professionals are the most sought-after and respected fitness instructors in the world. Known for their inspiration, dedication and knowledge, they train and educate their clients on safe and effective exercise techniques and motivate them to achieve healthier lifestyles
NGA Since 1979!!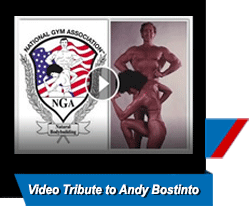 November 15, 2014 Francine Bostinto surprised her husband Andy with her tribute video to mark the 35th anniversary of the NGA. Andy was very honored and moved. "Thank you for such a heartfelt presentation, it's certainly something I will never forget." Please take a minute to read Francine's tribute speech to her husband Andy.
"Even if you're not an NGA athlete, take a minute to watch the video to the left. It is a moving tribute to Andrew from his dedicated wife, Francine. They are two wonderful people who combined their talent and love and crafted a meaningful life and business. Very inspirational!"
- Janelle Rosenfeld.

Andy Bostinto has trained thousands of clients over the years...
Al Pacino
Annebelle Sciori
Lou Ferrigno
Penelope Ann Miller
John Leguisanno
Arnold Schwarzenegger
Martin Bregman
Cyndi Lauper
Patrick Stewart
Regis Philbin
Placido Domingo
Morton Downey, Jr.
Ari Meyers
Professional Achievements
1979 - Present
National Gym Association (NGA), Founder and CEO - The NGA is a not-profit organization with a dual mission: to support through education and encouragement the art and science of natural strength training & bodybuilding and to provide more than adequate anti-drug information to support its slogan: Drug-Free Athletes of America. The NGA's intent is to speak for and further the betterment of its constituency of gym owners. This takes the form of co-op advertising, group product purchasing, newsletters and legislative intervention, etc. In 1991 converted the NGA to sanction only "natural" bodybuilding contests, which are promoted nationally. Also promotes and sanctions qualifying contests for the NGA Professional Natural Division. Promotes, produces, and directs the NGA PRO/AM Universe and the American Natural Championships. These events contain top natural professional and amateur bodybuilders as featured in NGA NATURALmag.
1978 - Present
Appears on a number of local TV programs such as Regis Philbin, Geraldo Rivera, Eyewitness News (Channel 7 with Rolanda Watts), Joe Franklin and Jean Paar discussing physical fitness and bodybuilding in individual and panel formats.
1979 - 1991
Promoted, produced and directed The Mr./Ms. Metropolis and The NGA Physique Classic Bodybuilding Championships. These events contained the top NYC area amateur bodybuilders and were shown on WCBS "Two on the Town" and CBS "30 Minutes."
1965 - 1979
World Bodybuilding Guild (WBBG) & International Federation of Bodybuilding (IFBB) - judge & representative. Officiated national and international events (i.e., Mr. Olympia 1970-1971), including competitors such as Arnold Schwarzenegger and Lou Ferrigno.
1977 - 1978
Won Senior Mr. America, September 10, 1977, Madison Square Garden, New York.
Experience
1983 - Present
One-on-one executive fitness trainer and nutrition consultant to musicians, film and T.V. stars, directors, producers, corporations and fitness centers.
1978 - 1983
Queens College - lectured: "Value of Exercise and Nutrition."
1955 - 1978
U.S. Air Force Reserve, Director of Royal Canadian Air Force Fitness Program - tested and evaluated Air Force Pilots.
Published Books And Articles
1994
Chief-author: "The NGA Trainers/Instructors Certification Course."
1989 - Present
Contributing writer regarding bodybuilding, fitness and health for various magazines.
1988
Co-author: "MENTAL FITNESS - A Pathway to Physical Fitness, Health & Longevity".