Welcome to the NGA Pro Athletes Gallery
Long time NGA show promoters, Francine and Andrew Bostinto, welcome men and women athletes to share their accomplishments. Andrew is president and founder of the National Gym Association (NGA).
Congratulations from all of us at NGA to you!

>>> back to NGA Pro Athletes Gallery. See NGA GALLERY FORM to join... it's free!
Austin Kjergaard - Pro Bodybuilder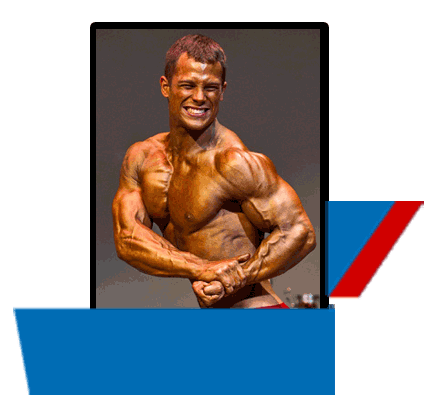 Austin Kjergaard - Pro Bodybuilder
Personal: Single

Email: akjergaard@hotmail.com
Facebook: Austin Kjergaard
State (residence): South Dakota
Available for posing exhibitions and/or seminars:Yes.
Occupation: Certified Fitness Nutrition Specialist at Max Muscle Sports Nutrition and Personal Trainer
Hobbies: Love to workout, hunt, fish, hang out with friends and family, read, and be outdoors
Training Since: 2008
WINNINGS/PLACINGS:
2012 Mr. Sioux Empire Natural - Open Lightweight and Overall Champ
2009 Las Vegas Novice - Lightweight Champ
2008 NPC Heartland Natural Classic - Teen runner up
2008 NPC North Star - Teen Champ and Runner-Up in Open Lightweight
2007 Grizzly Canyon - Overall Champ
Year Turned PRO:2012 Mr. Sioux Empire Natural - "earned pro card"
Stats: Height: 5'8; Weight: Preshow 200; Weight: Show 170
Bio: I believe if you have a goal and you want it bad enough and work hard enough you can achieve that goal. Anything is possible with dedication and hard work.
I love helping people achieve their goals whether it is losing body fat, gaining muscle, maintaining overall health, or wanting to compete.