Welcome to the NGA Pro Athletes Gallery
Long time NGA show promoters, Francine and Andrew Bostinto, welcome men and women athletes to share their accomplishments. Andrew is president and founder of the National Gym Association (NGA).
Congratulations from all of us at NGA to you!

>>> back to NGA Pro Athletes Gallery. See NGA GALLERY FORM to join... it's free!
Amy Lademann
- Pro Figure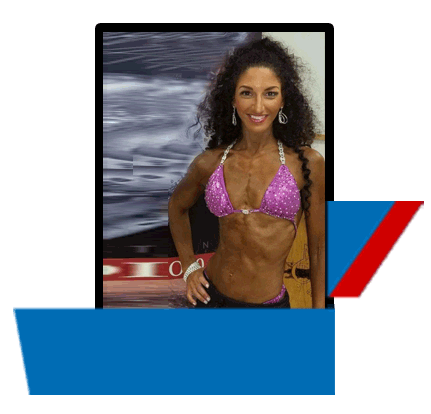 Amy Lademann - Pro Figure
Personal: Married, no children
Place of Birth: Massachusetts
Email: amy@go2beyondmotion.com
Website: go2beyondmotion.com
Facebook: beyond.motion
State of residence: Florida
Available For Posing Exhibitions and/or Seminars: Yes
Occupation: Gym owner, co-founder of BEYOND MOTION, PMA Certified Pilates Instructor, and Pilates Teacher Trainer.
Hobbies: Spending time with family, friends, our French Bulldog, hanging out at the beach, and travelling.
Food: Sashimi
Training since: 2016
Year Turned PRO: 2017
Stats:
Height: 5' 5"
Preshow Weight: 128 lbs.
Show Weight: 120 lbs.
Education: College graduate
Best Body Part: Back
Most Challenging Body Part: Legs
Favorite Exercise: Most anything
Traits You Admire Most In Others: Honesty, authenticity, loyalty, and hard working.
Traits You Admire Most In Yourself: Honest, authentic, persistant, loyal, and self motivated.
WINNINGS/PLACINGS:
2017 NGA PRO/AM Universe
Figure Open - 1st Place, NGA PRO card
Bikini Open - 2nd Place
Figure Masters - 1st Place
Figure Novice - 1st Place
Certificates:
BODHI Certified
MOTR Certified
BIO: I grew up dancing. At sixteen, I became certified to teach aerobics and step aerobics. I became "addicted" to finding ways of living a healthy and fit lifestyle. During college I cheered, studied martial arts, trained, and taught aerobics. During my twenties I discovered Nia, Dance Fitness, Yoga, and Pilates. I earned certifications in all of them and started teaching as soon as I could. I have been an avid student of the human body for more than twenty years and teach my instructors to do the same. I'm a speaker, Pilates Teacher Trainer, and author. I'm passionate about what I do and love helping others find their passion as well.
My husband Rick & I started BEYOND MOTION (go2beyondmotion.com) in Naples, FL in 2009 and it has grown to be a state of the art, award winning performance facility for elite ametuer and professional athletes of all ages from around the globe. From athlete performance, personal training, and post rehab to Pilates, massage therapy, and nutrition, we provide people with everytihing they need to reach their full potential.
We are super excited to announce our first book, pulished by Human Kinetics, is scheduled to be released winter 2018-2019. Stay tuned for details.