Welcome to the NGA Pro Athletes Gallery
Long time NGA show promoters, Francine and Andrew Bostinto, welcome men and women athletes to share their accomplishments. Andrew is president and founder of the National Gym Association (NGA).
Congratulations from all of us at NGA to you!

>>> back to NGA Pro Athletes Gallery. See NGA GALLERY FORM to join... it's free!
Renea Jones-Hudson - Pro Figure, Pro Master Figure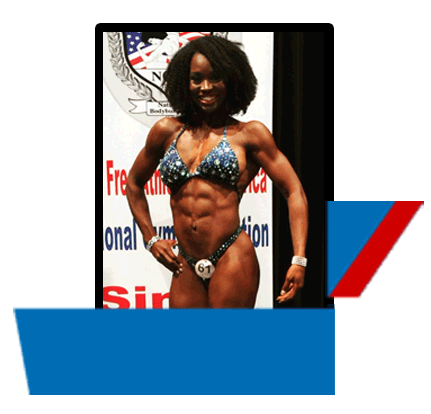 Renea Jones-Hudson - Pro Figure, Pro Master Figure
Personal: Married, 2 children
Place of Birth: Kingston, Jamaica
Email: renea@islandjamfitness.com
Website: www.islandjamfitness.com
Facebook: ReneaMJHudson
Available For Posing Exhibitions and/or Seminars: Yes
Occupation: Personal Trainer
Hobbies: Spending quality time with my family, reading, dancing
Favorite Movie: Wyatt Earp
Favorite Actor: Denzel Washington
Favorite Performer: Sade
Food: Rice and Peas and Jerk Chicken
Training since: 2002
Year Turned PRO: 2016
Stats:
Height: 5' 5"
Weight: Preshow 149
Weight: Show 135
Personal Trainer Since: 2016
Education: College Graduate
Best Body Part: my smile :-)
Most Challenging Body Part: triceps
Favorite Exercise: Squats
Least Favorite Exercise: lunges
Traits You Admire Most In Others: honesty, kindness, integrity, a great smile
Traits You Admire Most In Yourself: Optimistic, persistent, loyal, genuine, caring, kind
WINNINGS/PLACINGS:
2016 41st Annual Mt. Rogers and the Mid Atlantic Pro Blowout
1st - Womens Figure Short
1st - Masters Figure
1st - Figure and Overall Pro Card Winner
2016 ANBF WORLD CHAMPIONSHIP
1st - Figure Pro
1st - Figure Pro Overall
1st - Women's Physique Open and Masters - Pro Card Winner
2016 OCB Capital City Classic
1st - Masters Figure 40+ - Pro Card Winner
1st - Figure Open Class B
Certificates:
Certified Personal Trainer
Specialist in Strength and Conditioning
Specialist in Fitness Nutrition
Youth Fitness Training
Specialist in Senior Fitness
Specialist in Exercise Therapy
CPR and AED Certified
BIO: I was born and raised on the Island of Jamaica and I am married to my husband since 1997. We have two children. I am a retired Army Captain and now own and operate a personal training studio. I have been an athlete all my life. I swam, ran track, played soccer, played volleyball, competed in several Triathlons and ultimately have found my passion in bodybuilding. I enjoy living a healthy lifestyle. I truly believe that having a sense of awareness and a sense of being is important, because longevity matters in order to have the opportunity to be around for family, my children, and for my children's children is both a blessing and an honor.
I believe in God and I know that his grace has brought me through many challenging situations. I believe that all things are possible and all things are achievable, especially if you put in the work. The key to happiness, is to live freely, love wholeheartedly and surrounds yourself with all things positive.