Welcome to the NGA Pro Athletes Gallery
Long time NGA show promoters, Francine and Andrew Bostinto, welcome men and women athletes to share their accomplishments. Andrew is president and founder of the National Gym Association (NGA).
Congratulations from all of us at NGA to you!

>>> back to NGA Pro Athletes Gallery. See NGA GALLERY FORM to join... it's free!
Kathleen Huffstetler - Pro Master Bikini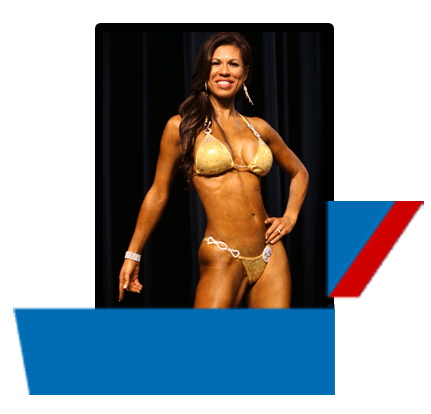 Kathleen Huffstetler - Pro Master Bikini
Personal: Married, 5 children
Place of Birth: Cebu, Philippines
Email: kmwarnock@gmail.com
Facebook: www.facebook.com/groups/kahuffstetlerfitness
State (residence): Alabama
Available For Posing Exhibitions and/or Seminars: Yes
Occupation: Software Engineer
Hobbies: Working out
Favorite TV Show: Bates Motel, Breaking Bad
Training Since: 2015
Year Turned PRO: 2015
Stats: Height: 5' 4"
Education: College Graduate, Other Programs
Best Body Part: Bicepts, triceps
Most Challenging Body Part: Glutes
Favorite Exercise: I love them all
Traits You Admire Most In Others: Honesty, dedication, positive can do attitude
Traits You Admire Most In Yourself: Driven, competitive, analytical
WINNINGS/PLACINGS:
November 7, 2015 - SNBF - TBD
July 25, 2015 - NPC Rocket City Classic - 2nd Place
July 11, 2015 - NGA Openn Alabama - 1st Place

BIO: Born In Cebu, Phillippines but raised in Fort Walton Beach, Florida. Married right out of High School and had 5 children. Received Bachelor's Degree from Troy State, AL in Computer Information Science and a Master's Degree in Information Engineering Management from University of Alabama, Birmingham.
September 2014 decided I would join a gym to lose weight. In March 2015 I found a coach and started training for competing in bodybuilding in the Bikini/Master's Bikini division. I have found a love for the fitness industry and for competing!