Welcome to the NGA Pro Athletes Gallery
Long time NGA show promoters, Francine and Andrew Bostinto, welcome men and women athletes to share their accomplishments. Andrew is president and founder of the National Gym Association (NGA).
Congratulations from all of us at NGA to you!

>>> back to NGA Pro Athletes Gallery. See NGA GALLERY FORM to join... it's free!
Griff Vitone - Pro Master Bodybuilder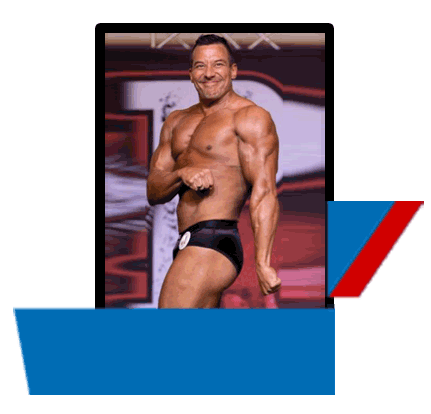 Griff Vitone - Pro Master Bodybuilder
Personal: Married, 1 child
Place of Birth: Ironwood, MI
Email: griffinv@live.com
Facebook: griffinv
State of residence: Florida
Available For Posing Exhibitions and/or Seminars: Yes
Occupation: Tabletop sports game creator, owner at Dicenutz.com
Hobbies: Playing guitar, watching sports
Favorite Movie: Forrest Gump
Favorite Actor: Robert DeNiro
Favorite Band: Nirvana
Favorite Performer: Bono
Favorite Food: Chicken and polenta with Mom's red sauce
Favorite TV Show: Modern Family
Training since: 1988
Year Turned PRO: 2021
Stats:
Height: 5' 10 1/2"
Preshow Weight: 215 lbs.
Show Weight: 195 lbs.
Education: College Graduate
Best Body Part: Shoulders and traps
Most Challenging Body Part: Hamstrings
Favorite Exercise: Decline bench press
Least Favorite Exercise: Cardio
Traits You Admire Most In Others: Kindness and trustworthiness
Traits You Admire Most In Yourself: Kindness, trustworthiness, and perseverance
WINNINGS/PLACINGS:
2021 NGA Thunder Classic
Master's Overall BB - NGA PRO Card
2021 NGA Thunder Classic
Master's 40-49 BB - 1st Place
BIO: I began competing as a bodybuilder in the early 1990's in Wisconsin. I won several division titles and qualified for nationals multiple times.
After a 27 year "off-season", l've corne back to the sport I love. I had intentions of competing in 2019, but a stroke landed me in the ICU for several days and temporarily derailed my plans. Thanks to the Advent healthcare medical team and support of my wife Amber and daughter Sienna, I worked my way back to health and ultimately to the stage at the 2021 NGA Thunder Classic.
I am honored to be an NGA PRO and I look forward to being part of the NGA for many years to corne.