Long time NGA show promoters, Francine and Andrew Bostinto, welcomed more than 70 outstanding men and women athletes to the stage for what is billed as the NGA National Show. Andrew is president and founder of the National Gym Association (NGA) and schedules his show near the end of the year so qualified athletes from earlier NGA shows can gather in Florida for one last chance to step it up to compete before the Holidays.
Every class was competitive and hotly contested by both amateur and professional athletes. At the end of the evening, four NGA Pro Cards were awarded to the winners of the Open and Master Figure Champions and the Open and Masters Overall Bodybuilding Champions.
PRESS RELEASE: National Gym Association (NGA) November 10, 2012, Coral Springs, FL
On Saturday November 10th, solid athletes from throughout the USA, France, Italy, Canada as well as a local contingency gathered to participate in the NGA Pro Universe Bodybuilding, Figure, Bikini, and Physique Competitions. Produced and directed by the NGA President Andy Bostinto, this annual event is the pinnacle of the NGA Pro field. Male Bodybuilders came to the Coral Springs Charter School's stage with more muscle that any other from their areas.
They ranged in age and heath, size and definition. The levels of density and sharpness ran the gambit of conditioning. Some athletes were huge and powerful; others came in steam-lined and shredded. It was an awesome array of prepared and fair Natural Championship quality. Reining from Hollywood Florida, Mr. Universe three -time champ David Lovelace once again brought every ounce of hard work and years of training that he has, to edge out Marshall Johnson from Leesburg, VA. Right behind Marshall was Earl Snyder of Philipsburg, PA and Anthony Blake of Manassas, VA. The latter three continued to place in the Pro Master's Division, with that title going to Marshall Johnson. It was a show of symmetry and completeness, dry skin, vascular completeness, fullness from top to bottom and in between.
As the powerful men strode off stage, gorgeous women in both Bikini and Figure Pro divisions competed. The amazing components throughout of delt caps, tapered lat lines, leg sweep, calf balance and pert poise was awe-inspiring. Taking the Pro Figure First was Alexandra Ellis of St. Louis, MO. and Jennifer Clark of Orlando, FL, won the Pro Bikini Division.

Pursuant to the Pro series, the amateurs earned fabulous crowd and peer appreciation. Marco Zanetti, President of the Italian natural organization (FIBBN) whom is working together with the NGA brought 5 athletes from Italy and France. The NGA featured Novice, Masters and Pro Qualifying divisions in Bikini, Figure and Men's Bodybuilding, plus an inaugural co-Ed Physique Class. Ms. Figure went to a lovely Italian competitor Galynsa Yerofyeyeva. The judges appreciated her sharpness, petite angles, stage style and conditioning. Joining her from the European Team, as NGA affiliate in Europe, was the amateur Overall Men's Champion Vecci Matila. Ms. Bikini was elegantly aquired by Stacy Boyer, Naperville, FL. Pro cards were provided to all top ranking amateurs in each division.
The NGA is proud to honor all natural athletes and we were thrilled to see the competitive range from 15 to 61 in Age. The Master's Overall went to a lively and fun filled poser, Al Vaughn of Sarasota, FL.
Show More...
>>> back to NGA Past Contest Winners
The 2012 NGA Nationals
THE NGA NATIONALS
NGA Pro Universe Championships
NGA American National Championships
NGA Florida Natural Championships

November 10, 2012
Coral Springs, FL
NGA Promoters:
Andrew & Francine Bostinto
CONTEST RESULTS:
2012 NGA PRO UNIVERSE
2012 NGA AMERICAN NATIONAL
2012 NGA FLORIDA NATURAL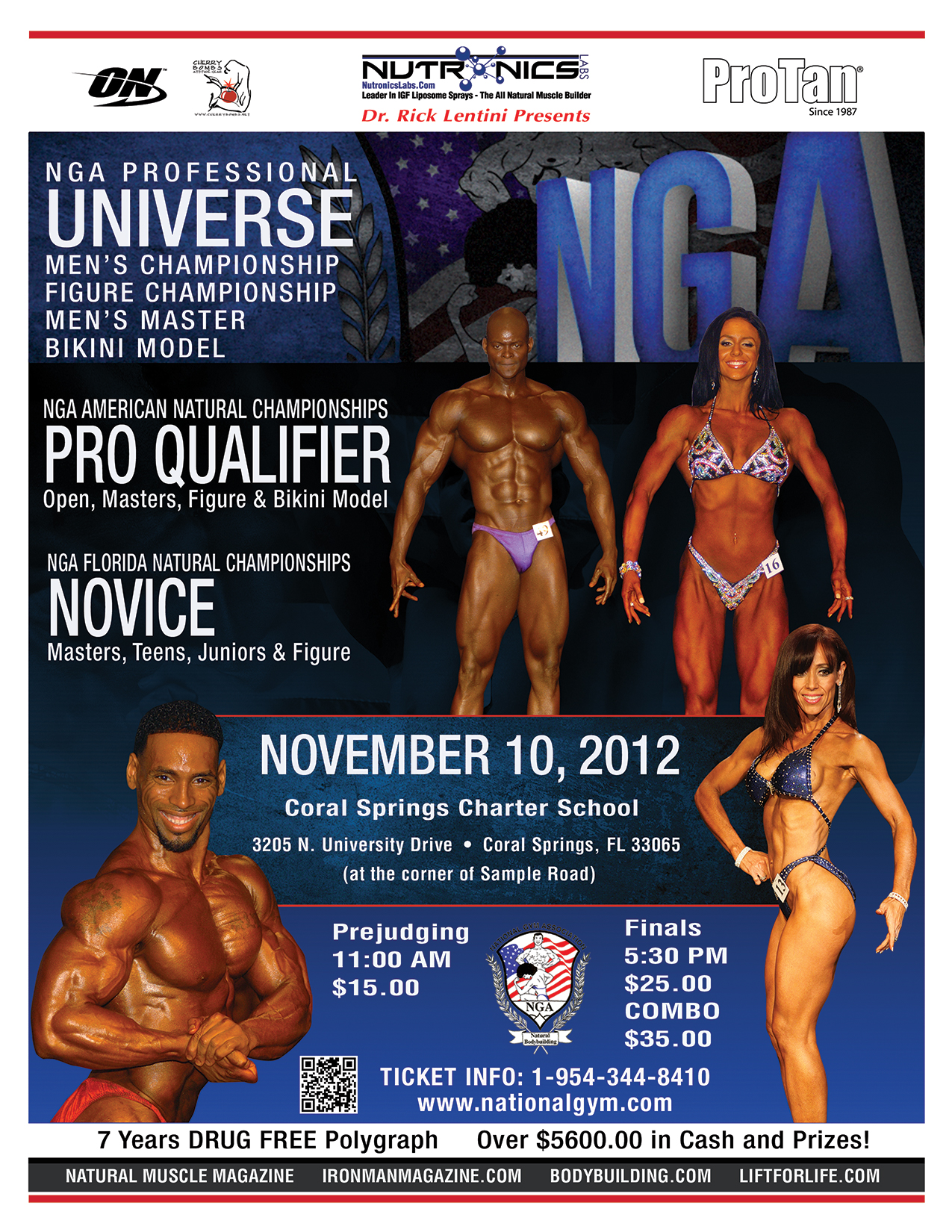 Judges
Paul Hendricks (Head Judge)
Jonathan Aggen
Troy Eckonen
Marilyn Garcia
Victor Garcia
Earl Snyder
Pam Spindel
Sarah Spindel
Terri Whitsel (Scorer)
Master of Ceremonies
Earl Snyder

Stage Managers
Anthony Boulware
Pete Diaz
Abraham Oluwole

Sponsors
Optimum Nutrition
ABB Performance
Body Heat Tanning
Bodybuilding.com
Egg Whites International
NutraKey
FIBBN
Target (Coral Springs, FL)
Costco (Pompano Beach, FL)
BJ's Warehouse (Parkland, FL)
The Fresh Market (Coral Springs, FL)
LaQuinta Inns & Suites (Coral Springs, FL)
Crown Trophy (Boca Raton, FL)
Photographer
Roger Lister
The President of the NGA Andy Bostinto is a real icon and idol to many people in the personal training field and bodybuilding business.

Governor Arnold Schwarzenegger
Former Mr. Universe