Welcome to the NGA Pro Athletes Gallery
Long time NGA show promoters, Francine and Andrew Bostinto, welcome men and women athletes to share their accomplishments. Andrew is president and founder of the National Gym Association (NGA).
Congratulations from all of us at NGA to you!

>>> back to NGA Pro Athletes Gallery. See NGA GALLERY FORM to join... it's free!
Ashley Methvin - Pro Bikini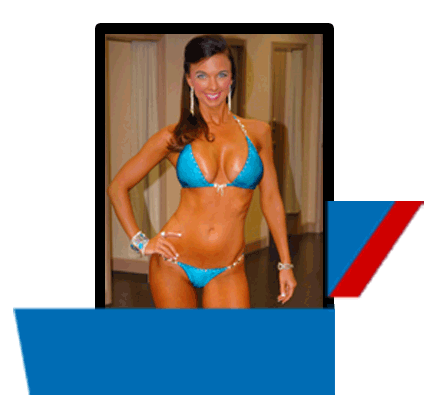 Ashley Methvin - Pro Bikini
Personal: Two great children!
Email: ms.ashleymethvin@gmail.com
Facebook: fitwithdash
State (residence): Florida
Available for posing exhibitions and/or seminars: Yes
Occupation: Nurse, Homeschool Mama
Hobbies: I enjoy being crafty especially during the holidays! Hunting and fishing are at the top of my list for sure. I enjoy the country and being outdoors; although at times I am quite the homebody.
Food: Southern Goodness... but during prep, the grill makes everything taste better!
Favorite TV show: Grey's Anatomy, Criminal Minds, Gilmore Girls
Judge since: 2015
NGA Judge since: 2015
Training since: 2012
Year Turned PRO: 2014
Stats: Height: 5' 7" Weight: Preshow 130 Weight: Show 120
WINNINGS/PLACINGS:
NGA/OCB Southern Cross 2014
1st Place Overall Bikini Open
Earned NGA Bikini Pro Card
NGA Gator Classic 2014
1st Place Bikini Open Tall
OCB Southern Cross 2013
3rd Place Bikini Debut
Education: College Graduate
BIO: "Do you not know that your body is a temple of the Holy Spirit who is in you, whom you have from God, and that you are not your own? For you have been bought with a price: therefore glorify God in your body".
I Corinthians 6:19-20
I don't typically include working out as a hobby considering it is a vital part of leading a healthy lifestyle and at times it isn't always fun and exciting. (Let's just be honest). Hobbies are delights we enjoy at our leisure and when we "have time"... Working out isn't optional it is a necessity for me and I never "have time" I have to "Make Time". I firmly believe God created this Amazing Machine that I call my body and it is my responsibility to take the very best care of it that's possible.
Farm Life is another wonderful aspect of what makes me who I am... I have 2 dogs, some chickens, a beautiful productive garden that my solemate has worked diligently to maintain not to mention two great kids that fill my heart with joy daily. I am as Southern as they come and yes, I enjoy my share of Southern Meals in moderation. I love to cook especially baking!
I hope to continue with fitness as a future promoter, continue judging at competitions when I'm not on the stage myself, and enjoying whatever journey God places on my heart. I love encouraging and motivating others. For some of us the fitness journey isn't an "easy-peasy" road to walk and it takes continued motivation and encouragement to continue.