Welcome to the NGA Pro Athletes Gallery
Long time NGA show promoters, Francine and Andrew Bostinto, welcome men and women athletes to share their accomplishments. Andrew is president and founder of the National Gym Association (NGA).
Congratulations from all of us at NGA to you!

>>> back to NGA Pro Athletes Gallery. See NGA GALLERY FORM to join... it's free!
Myla Bseirani - Pro Bikini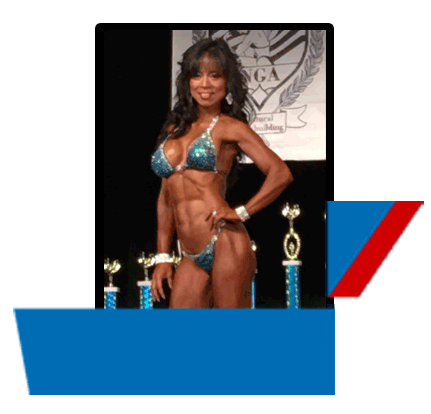 Myla Bseirani - Pro Bikini
Personal: Single, 2 children
Place of Birth: Philippines
Email: mylab8@yahoo.com
State (residence): New York
Available For Posing Exhibitions and/or Seminars: Yes
Occupation: Accountant
Hobbies: Bodybuilding, dancing, (Latin and ballroom) golfing, skeet shooting, and pole dancing
Pro AthleteTraining since: 2014
Year Turned PRO: 2016
Stats:
Height: 5' 2.25"
Weight: Preshow 120
Weight: Show 103
Education: College Graduate
Best Body Part: Abs
Most Challenging Body Part: Back
Favorite Exercise: Squats
Least Favorite Exercise: Dumbbell rows
Traits You Admire Most In Others: Genuineness
Traits You Admire Most In Yourself: Selflessness
WINNINGS/PLACINGS:
NGA Pro - Open Bikini
WNBF Pro - Masters Bikini
ANBF Pro - Masters Bikini
BIO: I am a single mother of two and I own an accounting practice. I have over 25 years of accounting experience and I absolutely love it. I started lifting weights for the first time in September of 2014 and became addicted! I started competing in November 2014 at age 45. My number one fan is my daughter who also happens to be my manager, hair stylist, and make-up artist. She is my world! When I am not prepping for a show, I enjoy dancing, both Latin and ballroom. I competed in the Syracuse Dancing with Our Stars in 2010 and won the bronze medal for the Individual Dance, which was a medley of tango, samba, foxtrot, and rumba, and Silver Medal for the Swing Dance. My other hobbies include golfing, skeet shooting, and pole dancing. I am also involved in a few local humanitarian projects such as Feed the Homeless and Food Bank. I believe in helping the less fortunate.
Competing in bodybuilding contests is one of the hardest thing I have ever done...but I love it! It takes a special mindset, dedication, discipline, patience, and sacrifice. It is now my lifestyle. Competing gives me a sense of pride and strength, not only physically but emotionally and mentally as well.