Welcome to the NGA Pro Athletes Gallery
Long time NGA show promoters, Francine and Andrew Bostinto, welcome men and women athletes to share their accomplishments. Andrew is president and founder of the National Gym Association (NGA).
Congratulations from all of us at NGA to you!

>>> back to NGA Pro Athletes Gallery. See NGA GALLERY FORM to join... it's free!
Idelisse Rivera - Pro Figure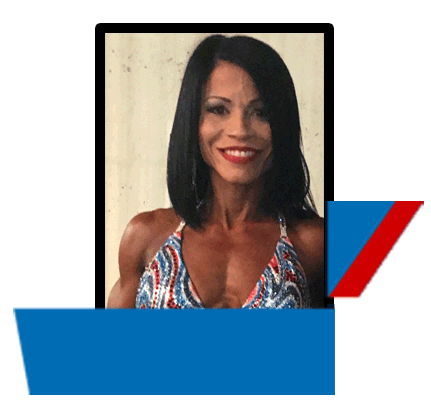 Idelisse Rivera - Pro Figure
Personal: Single, No children
Place of Birth: San Juan Puerto Rico
Email: Ide_getfit@yahoo.com
State of residence: Florida
Available For Posing Exhibitions and/or Seminars: Yes
Occupation: Professional Trainer
Hobbies: Working out, rollerblading, paddle boarding, biking, and bowling.
Favorite Movie: Star Wars
Favorite Actor: Harrison Ford
Favorite Band: Guns N Roses
Favorite Performer: Jason Alden
Food: Chocolate cake
Favorite TV Show: The Hunt with John Walsh
Training since: 1997
Year Turned PRO: 2017
Stats:
Height: 5' 3"
Weight: Preshow 117
Weight: Show 108
Personal Trainer Since: 2008
Education: College Graduate
Best Body Part: Back and glutes
Most Challenging Body Part: Hamstrings
Favorite Exercise: Lunges
Least Favorite Exercise: Anything shoulders
Traits You Admire Most In Others: People  who  are  very disciplined.
Traits You Admire Most In Yourself: That I'm hardworking and when I commit to do something I give everything I have.
WINNINGS/PLACINGS:
2017:  
NGA South Florida Hammer - Open Figure 1st place

NPC Southeast Classic - Class B Figure 1st place, Masters Over 30 2nd place, & Masters Over 40 2nd place

NPC Bill Willmoore Classsic - Class B 1st place, Masters Figure Over 30 2nd place, & Masters Figure 40 1st place

NPC Tampa Pro - Class A 3rd place & Open Figure 5th place

2014:
NPC Mary Redondo - Class B Figure 1st place, Over 40 1st place Novice  2nd  place,  &  Over  40  Overall  1st  place

NPC  Bill  Willmoor Ultimate Classic - Class B Figure 1st place, Masters Over 40 1st place, & Show Overall 2nd place
NPC Southern States - Class B Figure 1st place & Masters Over 40 3rd place
Certificates: Kickboxing,  Zumba,  TRX,  Kettlebell  training,  Plyo  training, Functional training, and Power Plate training
BIO: I was born and raised in beautiful Puerto Rico.  I've been in the fitness industry for 20 years. I started competing in NPC back in 2014. I love to help others and to motivate them. I'm very passionate in every thing I do. I'm a perfectionist and very disciplined.  I like to finish what I start; that's my own motivation when I wake up every morning.  I truly believe that without God we don't have anything; put him first and he will take care of you. I'm a free spirit who loves life, people, and animals!  That's me.