Welcome to the NGA Pro Athletes Gallery
Long time NGA show promoters, Francine and Andrew Bostinto, welcome men and women athletes to share their accomplishments. Andrew is president and founder of the National Gym Association (NGA).
Congratulations from all of us at NGA to you!

>>> back to NGA Pro Athletes Gallery. See NGA GALLERY FORM to join... it's free!
Jennie Laurent - Pro Figure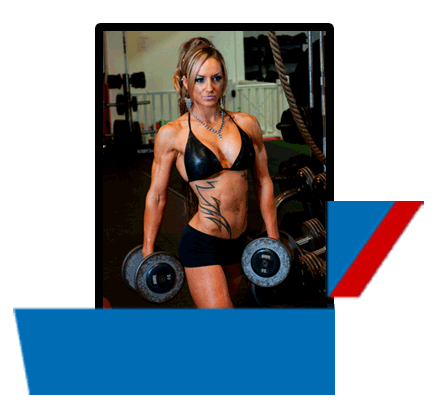 Jennie Laurent - Pro Figure
Personal: Single, no children

Place of Birth: Providence, RI

Email: xmetalfirexx@yahoo.com
Facebook: jennie.laurent.79
Faceook Athlete: jennielynnlaurent
Luvbug Productions/Promotional Models
Facebook: www.facebook.com/jennie.laurent.9
Instagram.com/mizfitjennie
Modelmayhem.com Username: Mizfitjennie  ID# 3358951
Bodyspace.bodybuilding.com/mizfitjennie/
https://twitter.com/mizfitjennie
www.pinterest.com/xmetalfirexx
https://linkedin.com/pub/Jennie-Laurent/14/b72/725
youtube: MizFitJennie
State (residence): Massachusettes
Available For Posing Exhibitions and/or Seminars: Yes
Occupation: Registered Nurse, Model
Hobbies: Landscaping, sports, art, nature, music
Favorite Movie: Hocus Pocus
Favorite Actor: Tom Branger
Favorite Band: Cold Play
Favorite Performer: Michael Jackson
Food: Peanut Butter
Favorite TV Show: House
Training Since: 2012
Year Turned PRO: 2014
Stats: Height: 5' 4" Weight: Preshow 140 Weight: Show 125
Personal Trainer Since: 2000

NGA Personal Trainer Since: 2000
Education: College graduate
Best Body Part: Back
Most Challenging Body Part: Legs
Favorite Exercise: Arms
Least Favorite Exercise: Legs
Traits You Admire Most In Others: Sincerity
Traits You Admire Most In Yourself: Sincerity
WINNINGS/PLACINGS:
OCB Spirit of America - April 2012
Figure debut, novice, and open 6th place

INBF NE Classic - June 2014
Open Figure 6th place, open bikini 6th place

INBF Granite State Open - October 25, 2014
First Place Figure, Figure Pro Card earned

INBF Monster Mash - November 8, 2014
Fit Body Pro Card earned
First Place Fit Body Tall and First Place Fit Body Overall
First place Pro Figure Debut and Shootout
Open Bikini 4th place

WNBF World Championships - November 15, 2014
4th Place Pro Figure Short

2015 OCB Spirit of America: Trophy Presenter
2015 Fitness New England and Musclemania - May 2, 2015
1st Place Open Figure, 2nd Place Physique

2015 WNBF PRO American Northeast Classic - June 6, 2015
1st Place Pro Figure
1st Place Women's Open Heavyweight Bodybuilding
Overall Women's Bodybuilding and awarded Pro Card

2016 NGA Garden State Classic NJ - May 14
1st Place Pro Figure, 4th Place Open Bikini
Sponsors:
CJS Elite & Glam Competition Jewelry: Bodybuilding suit 2015, Bikini 2016
Carie's Posing Suits: Figure Suit 2015, Figure 2016
Fitwear Designs: Figure Suit 2015, Figure 2016
SoreFreaks: Gym Gear/Apparel 2014
ARD Nutrition 5/2016
BIO: Jennie Laurent is a registered nurse, WNBF Figure, Fit Body, & Bodybuilding Pro Competitor, professional fitness model, landscape architect, and a health and fitness enthusiast. She loves to help people and inspire others to manifest their greatest selves and enjoy all that life has to offer. She's always been an athlete, and a few years ago she ventured into natural bodybuilding and modeling. She truly admires the camaraderie of this sport, the drive for self betterment, and the humbling nature of victories. Jennie enjoys providing people with factual information about health, fitness, and making this lifestyle both a pleasant and meaningful experience. She's a huge advocate for naturopathic health and wellness, and is delighted to have the privilege to collaborate with a variety of health and fitness experts and share the beauty and passion of these experiences. 2016 is going to be a significant year to make big things happen while representing ARD Nutrition as she defends her pro title and also aims to win more Pro titles and a figure world championship in the fall. Peace, love, and namaste.
ONLINE BIOS/PUBLICATIONS
https://strengthaddicts.com/Interviews/JennieLaurent.html
https://naturalbodybuildingevents.com/profiles/Jennie_Laurent.html
https://messages.rfos.org/cgi-bin/yabb2/YaBB.pl?num=1419542602
https://www.worldnaturalbb.com/athlete-spotlight/jennie-laurent/
Nat Mag Bio:
https://www.natural-mag.com/contributors/
The Natural Physique Magazine
Bio: https://www.thenaturalphysique.net/jennie.html
Be Legendary Magazine
Bio: https://www.belegendarymagazine.com/#!about/c22wy
The Weight of Gender
https://digitalcommons.uri.edu/srhonorsprog/416/
Women at their PEK 2/2016 feature
https://www.pekapparel.com/profiles-women-at-their-pek
https://ardnutrition.com/jennie-laurent/