Welcome to the NGA Pro Athletes Gallery
Long time NGA show promoters, Francine and Andrew Bostinto, welcome men and women athletes to share their accomplishments. Andrew is president and founder of the National Gym Association (NGA).
Congratulations from all of us at NGA to you!

>>> back to NGA Pro Athletes Gallery. See NGA GALLERY FORM to join... it's free!
Resh Michael - Pro Male Physique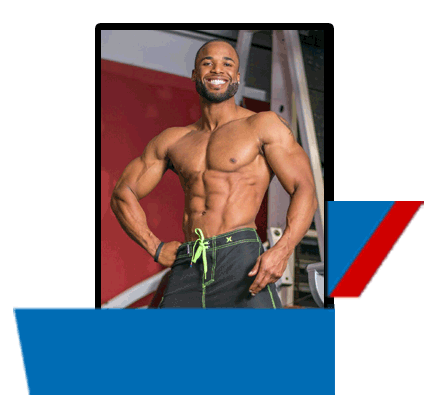 Resh Michael - Pro Male Physique
Personal: Single, 1 child
Email: thefitfanatic@gmail.com
Website: www.protreadplus.com
Facebook: Resh Michael
State (residence): New Jersey
Available For Posing Exhibitions and/or Seminars: Yes
Occupation: Fitness Director / Personal Trainer
Hobbies: Skiing, travelling, trying new foods and exercises
Favorite Movie: Training Day
Favorite Actor: Denzel Washington
Favorite Band: Maroon 5
Favorite Performer: Wiz Khalifa
Food: Pizza
Favorite TV Show: The Biggest Loser
Pro Athlete Training since: 2013
Year Turned PRO: 2014
Stats: Height: 5' 8" Weight: Preshow 175 Weight: Show 160
Personal Trainer Since: 2013

Education: College Graduate
Best Body Part: Back
Most Challenging Body Part: Calves
Favorite Exercise: Dead lifts
Least Favorite Exercise: Weighted Pull Ups
Traits You Admire Most In Others: Confidence
Traits You Admire Most In Yourself: Creativity
WINNINGS/PLACINGS:
2015 NGA Pro World NJ Championship
1st Place Pro Men's Physique

2015 NGA Garden State Natural Pro
1st Place Men's Physique
2014 NGA Pro World NJ Championship
1st Place Open Men's Physique-Short
Overall Physique Champion-Awarded Pro Status

Certificates: AFFA Group Fitness Instructor Certification
AFFA Kick Boxing Skills and Drills Certification
NASM Certified Personal Trainer, February 2016
American Red Cross CPR/AED Certified
BIO: I began competing in the NGA as a men's physique athlete in 2014. At the time I was competing in other physique organizations and although I was successful, I wanted to find a place where all the athletes competed on an even playing field. The NGA welcomed me with open arms and I turn Pro that same year. I have really come to appreicate the transparency in the judging within the organization as well as the drug-free standard that all their athletes are held to. Currently I can boast that I am undefeated in competion in the state of NJ and am looking forward to competing in other states within the NGA this year. As a certified fitness instructor and personal trainer I am always looking for ways to push my students/clients and myself to the next level. I enjoy conquering challenges and motivating others to push past their own limits. I look forward to my contined growth within the organization.
Resh