Welcome to the NGA Pro Athletes Gallery
Long time NGA show promoters, Francine and Andrew Bostinto, welcome men and women athletes to share their accomplishments. Andrew is president and founder of the National Gym Association (NGA).
Congratulations from all of us at NGA to you!

>>> back to NGA Pro Athletes Gallery. See NGA GALLERY FORM to join... it's free!
Jo-Anne Hill - Pro Master Figure, Pro Master Bikini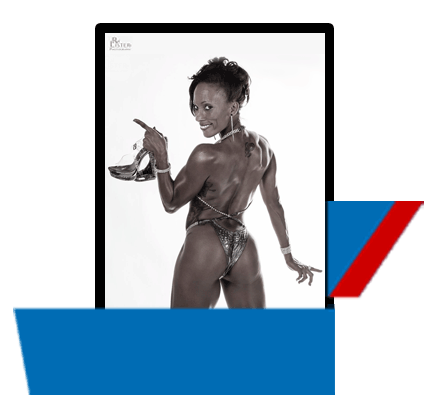 Jo-Anne Hill - Pro Master Figure, Pro Master Bikini
Personal:Single, children
Email: joanne.n.hill@gmail.com
Facebook:TeamBossMami
State (residence): Florida
Available For Posing Exhibitions and/or Seminars: Yes
Occupation: Branch Office Administrator
Hobbies: Running, Drawing, Swimming, Gun Range Shooting, Cycling
Training Since: 2013
Year Turned PRO: 2013
Stats:
Height: 5' 6"
Weight: Preshow 134
Weight: Show 130
Education: College Graduate
WINNINGS/PLACINGS:
NGA Flamingo Miami - Aug 10 2013:
1st Place Masters Bikini 35+
2nd place Bikini Open
2nd place Open Figure B
2nd place Novice Figure
NGA Champions and Challengers Showdown - Sept 21 2013:
1st place Masters Figure
1st place Masters Figure Overall
2nd place Masters Bikini
2nd place Bikini Open
NGA Pro Universe - Nov 2 2013:
7th place Figure Pro
NPC Europa Show of Champions - April 11 & 12 '14:
4th place Masters Figure 35+
NGA Abraham Fitness Pro/Am Championship - May 31 2014:
3rd place Pro Figure
3rd place Pro Bikini
NGA Pro Universe - Nov 2014:
4th place Figure M
BIO: I was born on the island of Curaçao and lived there for 15 years before relocating to the United Stated in 1994 with my mom and two younger siblings. Growing up I was always an active child. From the time I was 10 years old, I was on the local swimming team and also ran track and field internationally for the Netherlands Antilles.
After moving to the United States I ran track for Coconut Creek High School in South Florida. Despite encountering leg injuries in my track and field career, I did not give up on remaining physically active. In 2003 after my son Triston was born, I became even more active and dedicated to pushing my physical limits.
In 2013 I was challenged by a fitness friend to compete and my response was, "I don't think I can, that will take up a lot of time and I won't be able to commit". My friend did not take that for an answer and responded with, "You of all people, always motivating others to not give up and go for what you want, are now telling me that you cannot do this? I challenge you!"
I then decided to try, and did not shy away from the opportunity. I took on my first challenge on June 1st of 2013, and by August 10th I was ready and confident for my first NGA Flamingo competition in Miami. I proved to myself that nothing was going to stop me from pushing through to achieve my goals.
Today I focus on being a dedicated and driven athlete, fueled by the passion for being healthy and fit. As a single mom, it is about more than self-improvement and reaching fitness goals. It is about setting a great example for our children as well as others. It has been a rough but rewarding journey that continues to be met with enthusiasm and drive.
Whether you want to compete or not, I believe that living a healthy lifestyle is extremely important, and I am looking forward to many more competitions and great journeys ahead".
My motto is and will always be 'DIM' – Dedicate, Inspire & Motivate!