Not-For-Profit Organization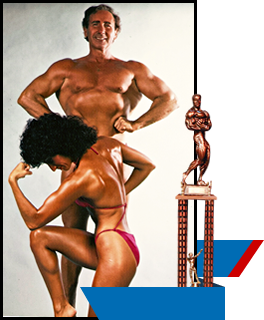 The NGA is a 501(c)(3) not-for-profit organization which serves a dual mission:
To inform and support athletes through education, personal fitness training and certification programs.


Encouragement in the art and science of natural strength training and bodybuilding.
In addition, we educate and inform the public about adequate and misrepresentation of athletes in the sport of natural bodybuilding. The NGA's intent is to set the example in the industry to speak for and further the betterment of its constituency in the fitness industry. These initiatives can only be achieved by developing co-op advertising, group product purchasing, newsletters and legislative intervention.
In 1986, the NGA sanctioned its first all "natural" bodybuilding contest in the United States. Since then, the NGA has grown to become the largest promoter of "natural" bodybuilding contests worldwide. All of our amateur sanctions are professional qualifiers. The NGA has become the leader in the industry of natural bodybuilding, which sanctions, promotes, produces and directs both amateur and professional championships in the United States and abroad.
MISSION STATEMENT
It is the mission of the NGA to provide the public and fitness professionals with the most advanced update fitness training program and principles in the industry. These fitness principles are our guiding light, which provides you with the best in personal fitness training certification, health, nutrition, continuing education programs, along with being one of the only natural bodybuilding organizations.
This leadership sets the precedence for the industry providing you with integrity, of an organization that is devoted to empowering you with the knowledge and skills to deliver fitness professionals that can practice within the health and fitness industry with confidence.
VISION
Our vision is and will continue to be the education leader and innovators in the personal trainers fitness certification industry by setting the standards in providing quality fitness programs along with the supporting the natural development bodybuilding athletes.
We are the leading provider of personal training certification and education in the fitness industry. The NGA believes that we must educate the public against unsafe and ineffective fitness products and certification instruction. We support individuals, services and products that achieve our standards of excellence.
Please visit National Gym Personal Trainer Certification course for details and to enroll.

NGA Celebrating Over 39+ Years!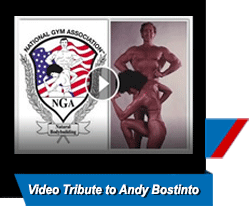 November 15, 2014 Francine Bostinto surprised her husband Andy with her tribute video to mark the 35th anniversary of the NGA. Andy was very honored and moved. "Thank you for such a heartfelt presentation, it's certainly something I will never forget." Please take a minute to read Francine's tribute speech to her husband Andy.
"Even if you're not an NGA athlete, take a minute to watch the video to the left. It is a moving tribute to Andrew from his dedicated wife, Francine. They are two wonderful people who combined their talent and love and crafted a meaningful life and business. Very inspirational!" - Janelle Rosenfeld
Andy Bostinto has trained thousands of clients over the years.