Welcome to the NGA Pro Athletes Gallery
Long time NGA show promoters, Francine and Andrew Bostinto, welcome men and women athletes to share their accomplishments. Andrew is president and founder of the National Gym Association (NGA).
Congratulations from all of us at NGA to you!

>>> back to NGA Pro Athletes Gallery. See NGA GALLERY FORM to join... it's free!
Shannon Markin - Pro Bikini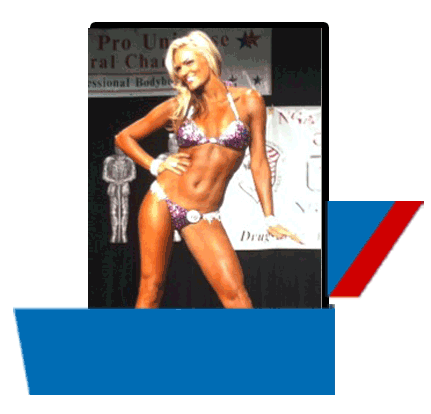 Shannon Markin - Pro Bikini
Personal: Married, one daughter
Email: shannon.markin@yahoo.com
State (residence): Florida
Available for posing exhibitions and/or seminars: Yes
Occupation: Self-employed
Hobbies: Volunteering for Children's Opportunity Group, Biking, Boating and Family time
Training Since: 2012
Year Turned PRO: 2013
Stats: Height: 5' 10" Weight: Preshow 144 Weight: Show 134
PRO SHOWS:
2013 - NGA Florida Natural Championship - Novice and Open Bikini
2013 - NGA Florida Natural Championship - Earned Pro Card

Shannon, a Canadian business owner in Massage Therapy, moved to Florida five years ago with her husband. Although she maintains all nation and international certifications, she no longer massages. Bodybuilding and bikini modeling were not even in her thoughts until, like many women, she struggled to loose the weight after having a child. With fierce determination and a great support system, she exceeded her expectations and won the NGA Florida Natural Championship in BOTH Novice Bikini and Open Bikini earning her PRO card and kick starting a whole new level of goals!